Tips for using the Vivint Smart Hub in your Fresno smart home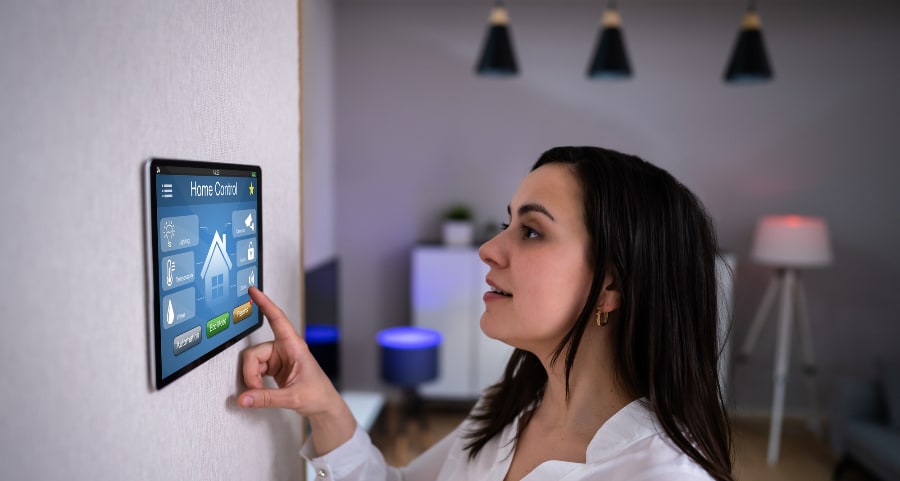 At the core of your home security, the Vivint Smart Hub links your locks, security sensors, cameras, and thermostats into one cohesive system. This easy-to-operate, 7-inch color interface places you in full charge of your Fresno home's automation and security. Learn more about what it can do and check out tips to get you started.
What can the Vivint Smart Hub in Fresno do for you?
Connecting wirelessly to sensors and other implements with radio wave transmissions and the Z-wave communications protocol, the Vivint Smart Hub is the command center for your home. You can arm or disarm your system, operate lights, change thermostat settings, and more. If incorporating a video doorbell, you may even speak to visitors standing at your door. The Vivint Smart Hub features built-in cellular connectivity and a backup battery to ensure reliable performance. It also provides complete remote operation with the Vivint mobile app.
Here are some of the functions you can perform:
Review live or recorded video from your linked surveillance cameras
Arm or disarm your home security
Turn lights on or off
Open or close your garage door
Modify your home comfort settings
Speak directly to monitoring agents
You can get even more creative with your Vivint Smart Hub in Fresno by setting schedules or initiating rules. To illustrate, you might have your smart thermostat automatically adjust each night at a particular time. Or, you can set rules like having your front door unlock whenever the fire alarm goes off.
Steps for arming and disarming your security system
Before you get into all the terrific things your Vivint Smart Hub can perform, you'll have to grasp how to arm and disarm your system. It's straightforward - just follow these steps:
Press the shield icon on the main screen and slide to the left for "Stay" and right for "Away."
Stay signifies you will be in the home and arms everything excluding interior doors and motion sensors.
Away means you will be away, and everything in the home will engage.
To disarm, just slide the shield icon down and input your PIN.
You'll see a notification if the system isn't ready to arm. For instance, an open window will prompt you to act. Keep in mind that you are still able to arm the security system by using the instructions above. You will then have to verify that you would like to circumvent the sensor in question.
Adding users to your Vivint Smart Hub in Fresno
Despite the fact that many users can be programmed when you first get your system, you may want to add or remove a user in the future. Here are steps to do so.
Press the menu icon (three dots) on the bottom right-hand side of the home screen.
Touch "Users" and input your PIN.
Touch "Add new user" toward the bottom.
Press "Name," provide the new user, and tap the Next button.
If you would like to give the user remote capability, choose email or phone and provide the information to send an invite.
Touch Next and then establish a PIN for this new user.
To remove a user, just navigate to the menu, tap users, select the user you would like to get rid of, and then tap "Delete User."
Add security and convenience to your home with Vivint
Do you want to take command of your home's automation and security with an intuitive touchscreen dashboard? You'll appreciate the Vivint Smart Hub and your new Fresno smart home. Call (559) 354-6624 to learn more.